New year's nails, which color to choose besides red?
The New Year is almost upon us, if you are thinking about manicure for the holidays, continue reading the article and you will find many inspirations to have perfect nails.
The red color New Year combination is known to be an evergreen that never goes out of fashion and manages to please everyone, but there are many other ideas from which to draw inspiration for your New Year's manicure. Whether you prefer classic nail polish, semi-permanent nail polish or gel polish for your New Year's manicure, you can choose from many colors all absolutely trendy.
We all know that there is no New Years without glitter and therefore why not focus everything on a shining and ultra gloss nail polish perhaps in shades of gold and / or silver to be used alone or in combination with other colors. Nail art in warm shades of red and gold is very trendy and always winning for a perfect look for all your events of the period, while the less obvious red and silver combination is really sophisticated and refined but certainly with a guaranteed wow effect.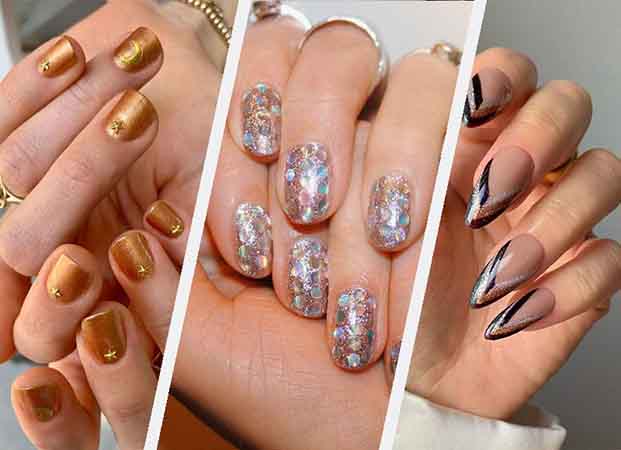 We said that the New Year is not just red and therefore which colors to choose for your New Year's nail looks? Black certainly deserves a prominent place, a color that is apparently difficult to wear and that not everyone loves. The important thing for those who choose to use black nail polish (as well as for other dark colors) is that the application must be flawless and must be removed at the first "sign of wear", otherwise the hands immediately take on a sloppy and uncared for appearance.
Another color increasingly used also for winter looks because it is inspired by the fairytale atmosphere of snowy landscapes is white. Manicures with white nail polish are an original and trendy idea whether the nail polish is used alone or in combination with other colors or even more so as a base for fantastic nail art. Green and blue are very intense and decisive colors suitable for women with a very strong personality. Other very popular colors for your New Year's nails are roasted burgundy, red burgundy and rouge noir.
Still doubts about your New Year's nails? don't hesitate, start trying the ones that best suit your personality with the nail beauty supply.