Operation method and precautions of electric nail file
There are many types of nail files on the market for similar uses. In this blog, your nail supply expert Maryton will tell you a few things to know about electric nail file. Keep reading!
Electric drill working mode
The electric nail drill can be used for nail care, repair, gel repair/removal and final repair. The operation method is as follows:
(1) nail care
After immersing the dead skin in water, use nail file to push inside the nails from both sides. It is necessary to take care to control the appropriate force to push the cuticle under the dead skin upwards.
(2) Repair
After the nailing has been done using an electric drill nailing machine, continue to polish the new arc groove. Select the grinding head that best suits the skin and nails, clean and remove the residual cuticle under the dead skin.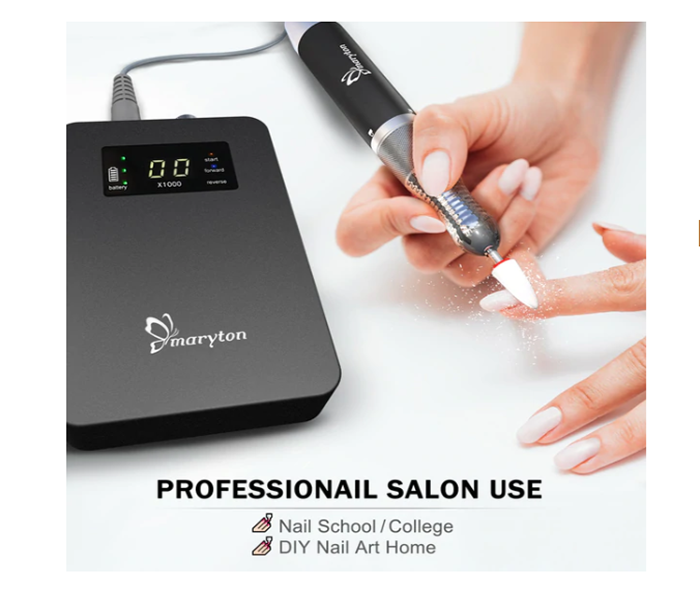 (3) carve and grind the nail surface
To protect the skin , you can use a grinding head with a rounded tip to remove dead skin from the edge of the finger and change the overall shape.
(4) Gel Repair/remove
Nail file is used for Polishing post – edge Warp Parts and nail surfaces. Can also be used for polishing when removing gel or front part.
(5) Final Repair
If the gel is applied on the back, it can be removed with a grinding head. Curing glue around the edges of the nails and curing glue on the skin should also be removed.
OK! Get your manicure sets out now! Looking forward to seeing your new manicure.
Read also: A Few Tips For Nail File Manicure Can Give You Beautiful Nails